Koyo (Koyo Seiko Co., Ltd.) was founded in 1921, is a research and development of integrated functional product manufacturing Japanese company, with 6,557 employees. Koyo Seiko Co., Ltd. is one of the four major bearing production groups in Japan. With the world's top production and control equipment, it has eight countries in Japan: Tokyo, Nara, Inada, Toyohashi, Takamatsu, Tokushima and Kameyama. The main production plant, (all through ISO9001 certification), overseas boast of several production bases and research institutions in Europe, Asia, North and South America
Company Profile:
Koyo Koyo Bearing KOYO shaft was established in 1921, and has 8 factories and 28 sales points in Japan, 9 production plants and 24 sales points abroad. Koyo Seiko Co., Ltd. is a third-ranked manufacturer of comprehensive bearing products in the world with a long history and culture. Its various bearings are widely used in general machinery and other industries and Japan's ranking professional fields. China enjoys extremely high reputation and friendship quality praise.
Koyo (Koyo Seiko Co., Ltd.) and Toyota Koki Co., Ltd. merged on January 1, 2006. The new company after the merger is named JTEKT Corporation (JTEKT Corporation).
The company's development in China
Koyo (Koyo Seiko Co., Ltd.), its market share in China, has been unknown from 1992, and today it is ranked after Sweden's SKF, Germany's FAG, INA, and Japan's NSK bearings. The top five ranks of imported bearings are enough. It can be seen that Koyo bearings have been recognized and favored by domestic customers in terms of quality and after-sales management. This is worthy of reference for our domestic brand bearings in production and promotion.
Operating items:
The business projects of Japan Koyo Seiko Co., Ltd. include bearings, automobile steering gears, automobile instruments, constant velocity universal joints, oil seals, working machinery, industrial heat treatment furnaces and electronic controllers. The company has significantly increased its overseas steering gear production capacity. It has established steering gear production bases in Thailand, Malaysia, India, South Korea, and China, becoming Japan's first and the world's second-largest automobile steering system manufacturer.
Japan Koyo Seiko Co., Ltd. produces tens of thousands of high-precision, high-quality KOYO bearing series products, providing aerospace technology, computer components, motors, high-speed trains, MRT trains, industrial machinery, CNC lathes, high-precision processing machines, Automobile, locomotive industry, steel industry, etc., are the best choices
Koyo Bearings achieved sales of 186.7 billion yen by product classification in 1999, 119.3 billion yen for automotive steering gears, and 55.1 billion yen for other products, accounting for 52%, 33%, and 15% of total sales, respectively.
leading product:
KOYO rolling bearings, KOYO deep groove ball bearings, KOYO high-precision bearings, KOYO spherical bearings, KOYO housing bearings, KOYO flat ball bearings, KOYO short cylindrical roller bearings, KOYO linear guide bearings, KOYO ball screw bearings, KOYO miniature Linear guide bearing, KOYO cross roller guide bearing, KOYO reciprocating bush bearing, KOYO ball sliding bearing, KOYO cam driven bearing.
Eric Bearing Limited has enough stock for KOYO 6208 ZZ C3, please click here.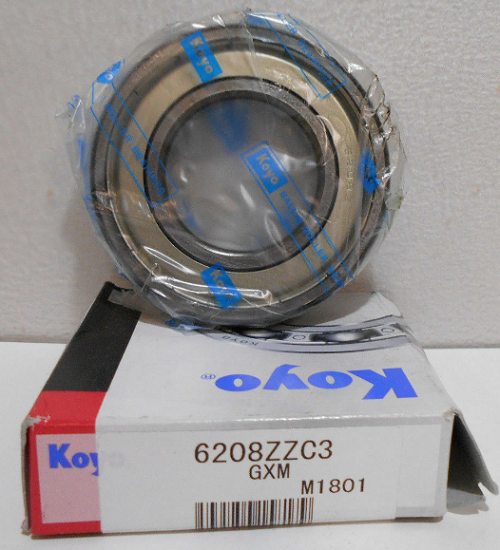 Routine inspection:
The allowable measurement error can in principle allow the measurement error to be below 10% of the tolerance.
In order to reduce the measurement error, the radius of the probe and the pressure of the measuring table must be within the possible range. It is necessary to reduce the pressure-measurement force of the measuring table and increase the radius of curvature of the probe. When measuring the inner diameter and outer diameter of KOYO bearings, the measuring force used and the radius of curvature of the probe can be selected by reference.
Measurement area regulations
For the measurement of the inner diameter or outer diameter of KOYO bearings, the domestic regulations stipulate that the measurement is within an area with a maximum chamfer coordinate each leaving the south end of the ring, while foreign countries generally specify the area with double chamfer coordinates each leaving the end of the ring Measure within.
Dimensional standards
When using the comparative measurement method to measure the dimensional tolerance of KOYO bearings, the measurement block or standard part is used as the dimensional reference for comparative measurement. The measurement block must meet the requirements of the standard JB / T1078 "Measurement block", and the standard part must comply with the manufacturer Departmental regulations.
Temperature conditions during measurement
The ambient temperature during measurement is specified at 20 ° C. The temperature of KOYO bearings, gauge blocks, standard parts and measuring instruments must all be the same. The above method of placing them on the same metal plate can achieve the necessary temperature balance as quickly as possible. Otherwise it will take hours or even days can achieve such a balance.
Eric Bearing Limited has enough stock for KOYO 6208 , please click here.