Although FAG bearings have many types and varieties, and have their own inherent characteristics, but compared with sliding bearings, they have the following common advantages:

1) The friction coefficient of FAG bearings is small, so the friction resistance and starting friction torque are small, and the power consumption is low;

2) The external dimensions have been internationally standardized, serialized and universal, suitable for mass production, good interchangeability, and easy to install, disassemble and maintain;

3) FAG bearings have small internal clearances and high machining accuracy. The rigidity of the bearing can be improved by applying preload, which is very important for precision machinery;

4) FAG bearing has high transmission efficiency, less heat generation, convenient lubrication and maintenance, and save lubricant;

5) The load, speed and working temperature have a wide range of adaptation, and a small amount of changes in working conditions have little effect on the performance of the bearing;

6) Generally, most types of bearings can bear radial and axial loads at the same time, which can simplify the structure.
Need FAG Bearing 3322M, contact us for more details.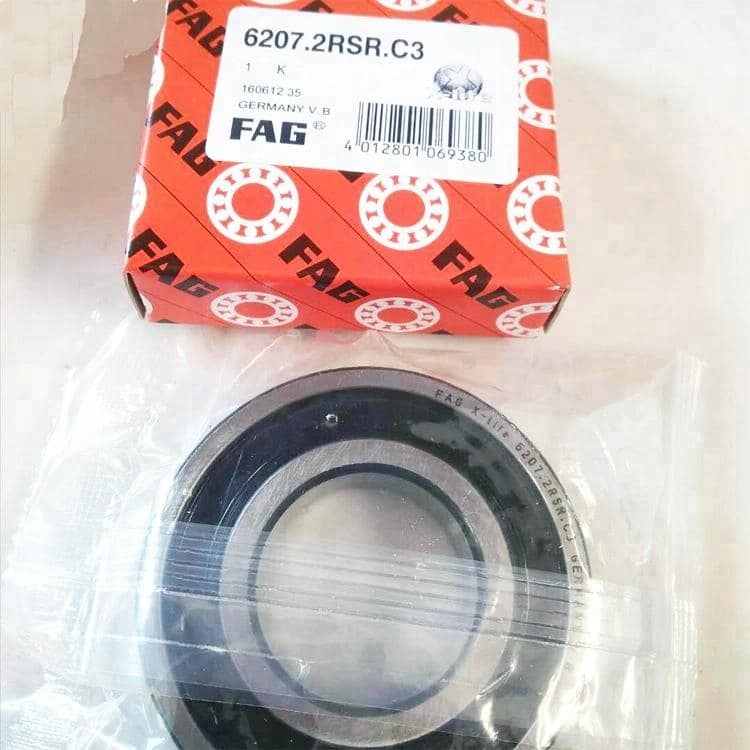 However, FAG bearings also have certain shortcomings, mainly:
1) The load bearing capacity of FAG bearings is much smaller than that of sliding bearings of the same volume. Therefore, the radial dimensions of FAG bearings are large. Therefore, sliding bearings are often used in occasions with large loads and small radial dimensions.
2) The vibration and noise of FAG bearings are large, especially in the later period of use. Therefore, FAG bearings are difficult to meet the requirements of high precision and vibrations are not allowed.
3) FAG bearings are particularly sensitive to metal foreign matter. Once foreign matter enters the bearing, large intermittent vibration and noise will occur, which may easily cause early damage to the bearing.
FAG bearings are compared with sliding bearings. Each has its own advantages and disadvantages, and each occupies certain applicable occasions. Therefore, the two cannot be completely replaced. However, due to the outstanding advantages of FAG bearings, at present, FAG bearings have developed into the main support type of machinery, and their applications have become more and more extensive.
1. Thrust angular contact ball bearings in FAG bearings
The contact angle of thrust angular contact ball bearings is generally 60°. Commonly used thrust angular contact ball bearings are generally two-way thrust angular contact ball bearings. They are mainly used for precision machine tool spindles. They are generally used in conjunction with double-row cylindrical roller bearings to withstand two-way shafts. It has the advantages of high precision, good rigidity, low temperature rise, high speed, and convenient assembly and disassembly.
2. Deep groove ball bearings in FAG bearings
Structurally, each ring of a deep groove ball bearing has a continuous groove raceway with a cross-section approximately one third of the equatorial circumference of the ball. Deep groove ball bearings are mainly used to bear radial load, but also can bear certain axial load. When the radial clearance of the bearing increases, it has the properties of an angular contact ball bearing and can withstand alternating axial loads in two directions. Compared with other types of bearings of the same size, this type of bearing has a small friction coefficient, high limit speed, and high precision. It is the preferred bearing type for users when selecting models. Deep groove ball bearings are simple in structure and easy to use. They are the largest production batch and the widest application range of FAG bearings.
3. Thrust tapered roller bearings in FAG bearings
Because the rolling elements in thrust tapered roller bearings are tapered rollers, the rolling generatrix and the raceway generatrix of the washer intersect at a certain point on the axis of the bearing in structure, so the rolling surface can form pure rolling with high limit speed For thrust cylindrical roller bearings. Features: Thrust tapered roller bearings can withstand unidirectional axial load. The type code of thrust tapered roller bearing is 90000 type.
4. The structure and performance characteristics of double-row tapered roller bearings in FAG bearings
Double-row tapered roller bearings have various structures. The largest is the 35000 type. It has a double raceway outer ring and two inner rings. There is a spacer between the two inner rings. The clearance can be adjusted by changing the thickness of the spacer. This type of bearing can bear bidirectional axial load while bearing radial load, and can limit the axial displacement of the shaft and housing within the axial clearance of the bearing. Structural features of tapered roller bearings. The type code of the tapered roller bearing is 30000, and the tapered roller bearing is a separable bearing. Tapered roller bearings are mainly used to bear combined radial and axial loads, mainly radial loads. Compared with angular contact ball bearings, the bearing capacity is large and the limit speed is low. Tapered roller bearings can withstand axial load in one direction and can limit axial displacement of the shaft or housing in one direction.
FAG Bearing 7228B.MP online, click here to buy it.
In the bearing export trade of Eric Bearing Limited for more than ten years, the reason why the international trade has been able to grow bigger is because our products are of high quality and competitive prices in the international market, which are favored by many customers. Because of the support of our customers, we can develop now. In the future, we believe there will be more development.