Effect:
In terms of its function, it should be a support, which is literally used to support the shaft, but this is only a part of its function. The essence of support is to be able to bear radial loads. It can also be understood that it is used to fix the shaft. It is to fix the shaft so that it can only rotate, and control its axial and radial movement. The consequence of a motor without bearings is that it simply cannot work. Because the shaft may move in any direction, and the motor requires the shaft to rotate only when it is working. In theory, it is impossible to achieve the role of transmission. Not only that, bearings also affect the transmission. In order to reduce this effect, good lubrication must be achieved on the bearings of high-speed shafts. Some bearings are already lubricated, called pre-lubricated bearings, and Most bearings must have lubricating oil. When the load is running at high speed, the friction will not only increase energy consumption, but more terrible is that it is easy to damage the bearing. The conversion of sliding friction into rolling friction is one-sided, because there is something called a sliding bearing.

Classification:
Rolling bearing size classification
Divided into:
The classification of the load direction it can bear
Divided into:
① Radial bearings, also called radial bearings, bear radial loads.
②Thrust bearings, also known as thrust bearings, bear axial loads.
③ Radial thrust bearings, also called centripetal thrust bearings, bear radial load and axial load at the same time. According to the different frictional properties of bearings, they can be divided into two categories: sliding friction bearings (simply referred to as sliding bearings) and rolling friction bearings (referred to as rolling bearings).
Eric Bearing Limited has enough stock for NACHI 22211EXWC3, please click here.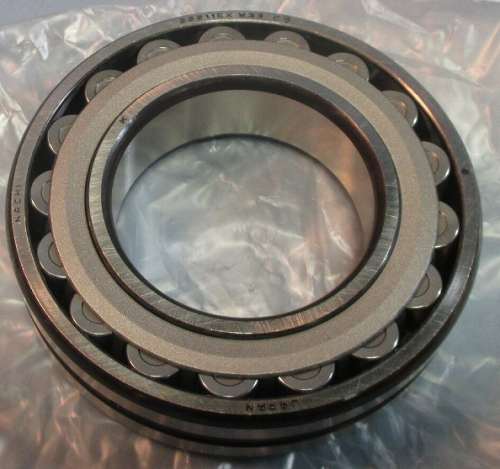 Structural performance:
Thrust angular contact ball bearings
Thrust angular contact ball bearings have a contact angle of generally 60 °. Commonly used thrust angular contact ball bearings are generally bidirectional thrust angular contact ball bearings. They are mainly used in precision machine tool spindles. They are generally used together with double-row cylindrical roller bearings to withstand bidirectional shaft The direction load has the advantages of high precision, good rigidity, low temperature rise, high speed, easy assembly and disassembly.
Deep groove ball bearing
Structurally, each ring of a deep groove ball bearing has a continuous groove raceway with a cross section of approximately one third of the equatorial circumference of the ball. Deep groove ball bearings are mainly used to bear radial loads, and can also bear certain axial loads. When the radial clearance of the bearing increases, it has the properties of angular contact ball bearings and can withstand axial loads that alternate in two directions. Compared with other bearings of the same size, this type of bearing has a small friction coefficient, high limit speed and high accuracy. It is the preferred bearing type when the user selects the type. The deep groove ball bearing has a simple structure and is easy to use. It is a type of imported bearing with the largest production volume and the widest application range.
Thrust tapered roller bearings
Since the rolling elements in thrust tapered roller bearings are tapered rollers, the rolling generatrix and the raceway generatrix of the washer converge on a certain point on the axis line of the bearing on the structure, so the rolling surface can form pure rolling and high limit speed Used in thrust cylindrical roller bearings. Features: Thrust tapered roller bearings can withstand unidirectional axial loads. The type code of thrust tapered roller bearing is 90000. 4. Structure and performance characteristics of double-row tapered roller bearings in imported bearings
Double-row tapered roller bearings have a wide range of structures. The largest quantity is the 35000 type. There is a double raceway outer ring and two inner rings. There is a spacer between the two inner rings. The clearance can be adjusted by changing the thickness of the spacer. This type of bearing can bear two-way axial load while bearing radial load, and can limit the axial displacement of the shaft and the housing within the axial clearance range of the bearing. Structural characteristics of tapered roller bearings. The type code of tapered roller bearings is 30000, and tapered roller bearings are separate bearings. Tapered roller bearings are mainly used to bear combined radial and axial loads, mainly radial loads. Compared with angular contact ball bearings, the bearing capacity is large and the limit speed is low. Tapered roller bearings can withstand axial load in one direction and can limit axial displacement of the shaft or housing in one direction.
Eric Bearing Limited has enough stock for NACHI 6310ZZE, please click here.