The global megatrends of mobility and ?Industrie 4.0" as well as the associated further development of rolling bearings, plain bearings and linear guidance systems in terms of loading, operating life and power density are the main features of Schaeffler AG's Industrial division's presence at the Hannover Messe 2015. In addition to the perennial themes of increasing performance, economy and energy efficiency, the subjects of sensors, actuators and networking as well as continuous condition monitoring are key focus points in product development. "The drive components with integrated sensor technology and smart actuators we are presenting in Hannover are a prerequisite for networking machinery and plant as well as for the control of autonomous processes in our customers' value added chain," according to Robert Schullan, member of the Executive Board at Schaeffler AG and President of Schaeffler Industrial.
Mobility for Tomorrow
Environmentally friendly drives, urban and inter-urban mobility and the broad subject of energy are the specific focus points of Schaeffler's "Mobility for Tomorrow" strategy. As development partner and global supplier to the automotive and industrial sectors, Schaeffler has a detailed knowledge of drive train systems in both vehicles and industrial applications. Schaeffler's strength lies in its breadth of knowledge which covers not only the automotive sector but all other types of urban and interurban mobility such as two-wheeled transport, rail and aviation. In the field of energy, Schaeffler is working as a development partner for the generation of conventional and renewable energy as well as the most efficient possible use of applied energy through products with minimum friction. "When it comes to 'Mobility for Tomorrow', energy-efficient, cost-effective, and durable components for engines, transmissions, and chassis play a major role when it comes to India's growing market for two- wheel vehicles, for example. Schaeffler is making a significant contribution to reductions in consumption and emissions as well as to increasing reliability, robustness and economy" says Mr. Schullan.
Smart actuators: Innovative screw drives for electromagnetic linear actuators
Schaeffler is presenting a new design and new operating principle to expand its range of spindles by introducing a screw drive with particularly high load carrying capacity and power density. The PWG planetary screw drive is paving the way towards "smart actuators": extremely high efficiency electromagnetic linear actuators with minimum space requirement. Applications and initial projects can be found in areas like mirror tracking systems in the solar power sector, azimuth adjustment systems in the wind power sector, feed units for sheet metal forming in the mechanical engineering sector, in sheet metal bending machines, in locking cylinders for plastic injection molding machines, in riveting and cutting devices, and in adhesive metering systems. The PWG range is also already being used in the automotive industry in clutch actuators.

Click here for more details about KOYO 32218 JR.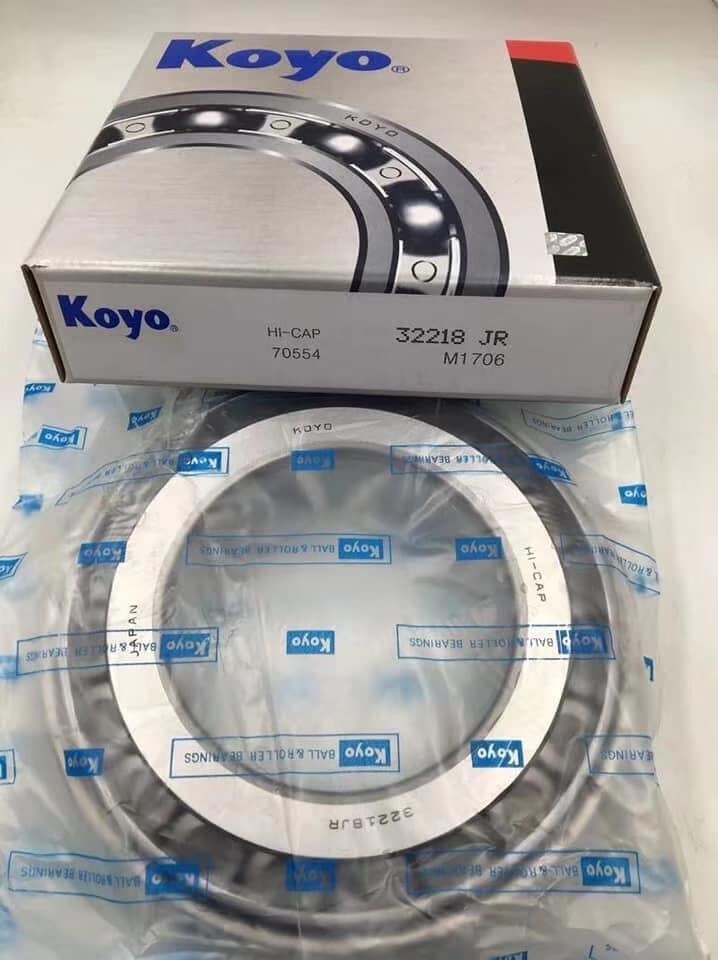 Measurably better with X-life
Considerable potential for increased functionality, economy and reliability in industrial applications is being released thanks to continuous development of rolling bearings, plain bearings and linear guidance systems. X-life is the seal of quality used by Schaeffler for products which have a considerably longer rating and operating life due to their increased basic dynamic load ratings in applications where the load and design envelope are identical. This extends maintenance intervals which leads to an improvement in "Total Cost of Ownership" and an increase in the reliability of the drive or the machine. Alternatively, the increased basic load ratings allow the bearing load to be increased without any detriment to the operating life. Or the customer can use a smaller rolling bearing. This results in a more compact, lighter design. A reduction in friction and noise levels are further reasons to use X- life bearings.
New bearing design – toroidal roller bearing FAG-TORB in X-life quality
Schaeffler is presenting a new bearing design at the 2015 Hannover Messe with its FAG TORB toroidal roller bearing. This is a roller bearing with angular adjustment in X-life quality. It combines the angular adjustment capabilities of a spherical roller bearing with the axial displacement of a cylindrical or needle roller bearing. TORB bearings allow the operational reliability and cost-effectiveness of locating/non-locating bearing supports to be significantly increased. In addition to steel and rolling mills, the main areas of application also include belt and conveyor systems, paper machines (e.g. in drying cylinders), drives in marine applications, turbomachinery used in power generation (e.g. in ventilators), textile machinery, crushers, food processing machines, and agricultural machinery.